Things should start returning to normal this week, with a ton of economic data and the December. The data dump doesn't begin until Wednesday, with the report and at 10 AM, followed by the FOMC minutes at 2 PM ET. I don't think the FOMC minutes will provide any glimmers of hope for the bulls, as it will likely emphasize the same, if not more hawkish, tone than at the FOMC press conference.
The bond market has told us that it expects the Fed to be more aggressive in 2023, with rates rising steadily since the December FOMC meeting. The most significant change in the Fed Funds Futures has come beyond the summer of 2023, with rates climbing significantly from where they had been before the FOMC meeting. The Fed minutes on Wednesday should work to re-emphasize the Fed's commitment to getting the overnight rate to 5.1% and potentially higher in 2023.
1. Treasury Curve
The December 2023 Fed Funds Futures move higher has helped drag the rate higher. The spread has consistently been around 21 bps since the end of November. If we are to believe that spread to remain constant, or even narrow some, and the Fed can get the December contract to rise to the 5.1% level noted in the December SEP, the 2-yr Treasury is likely to trade up to around 4.9 % in 2023 or higher.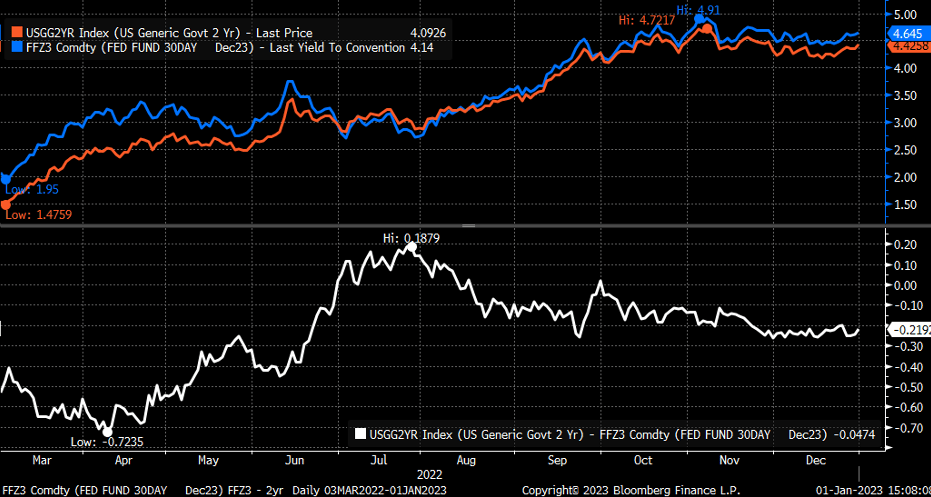 Fed Funds Futures, US 2-Yr Yield Price Chart
Therefore, rates across the are too low and are likely to rise by another 50 basis points from the current level in 2023 and more likely to continue to pressure equity PE multiples. So reading the FOMC minutes this Wednesday will have a big say in how high rates may need to go. Additionally, the Job report on Friday will also be critical, especially given that average hourly earnings are forecast to increase by 5% on ay/y basis.
2. Reserve Balances
This past Friday, we saw reverse repo activity climb to a record high above $2.5 trillion. That means the reserve balance likely dipped well below the $2.8 trillion mark during the week. As of Wednesday's closing date, reserve balances had already been at a 52-week low, and Friday's repo activity likely pushed reserve balances significantly lower.
When reserve balances make new lows, we typically see the make new lows within and around the time of the lows in reserves. We will have to see what this week brings.

Reserve Balance with Fed Reserve
3. S&P 500 (SPY)
The technical setup does not look favorable for the SPDR S&P 500 (NYSE:), with a sideways consolidation pattern that resembles a symmetrical triangle. Typically, these are continuation patterns, suggesting that the S&P 500 pushes lower this week.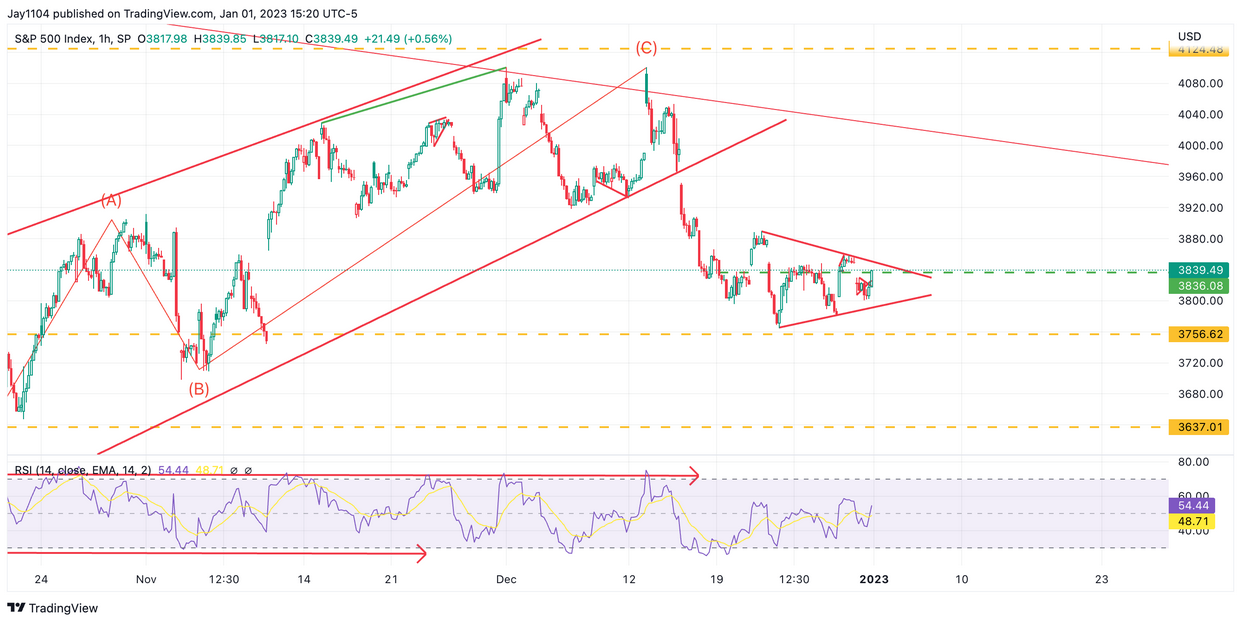 If this is the correct structure, we could be looking at a drop back to the 3,580 gap or potentially to a new low altogether. The index may trade back up to 3,850 before going lower.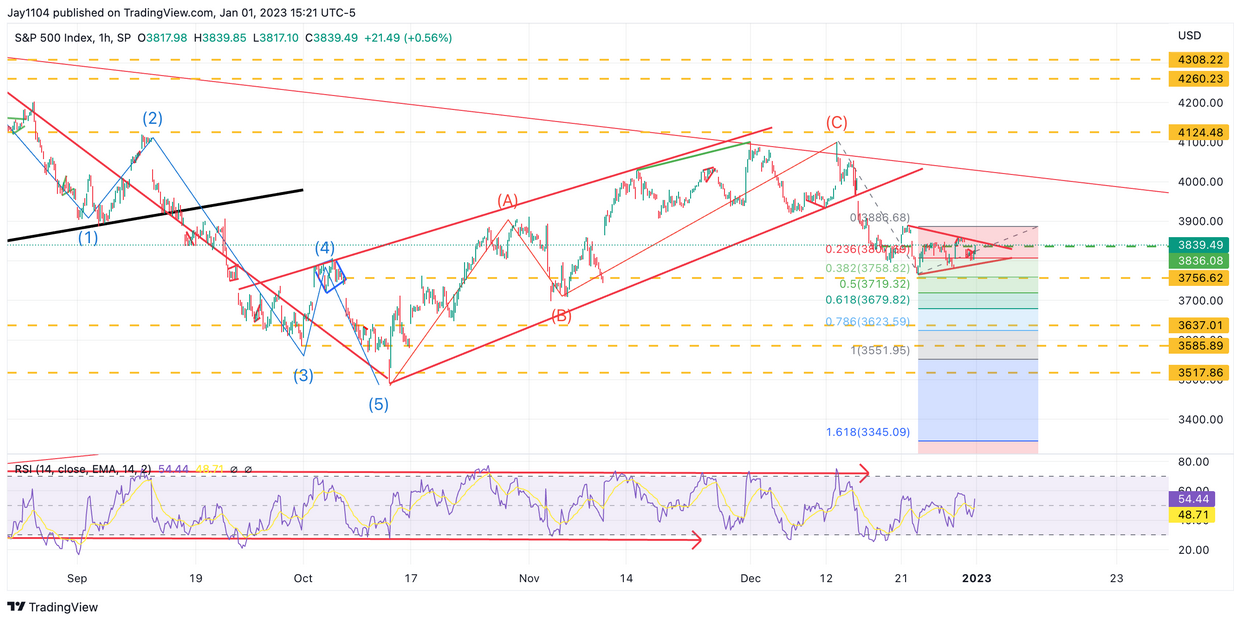 4. Merck (MRK)
Merck & Company (NYSE:) is an excellent stock to watch, the stock has gone straight up over the past couple of months, and I'm not sure I understand why, either. But there is a clear bearish divergence at this point, with an RSI trending lower. Additionally, the stock is very close to breaking that major uptrend, and once it breaks, it could be in for a long drop back to $110.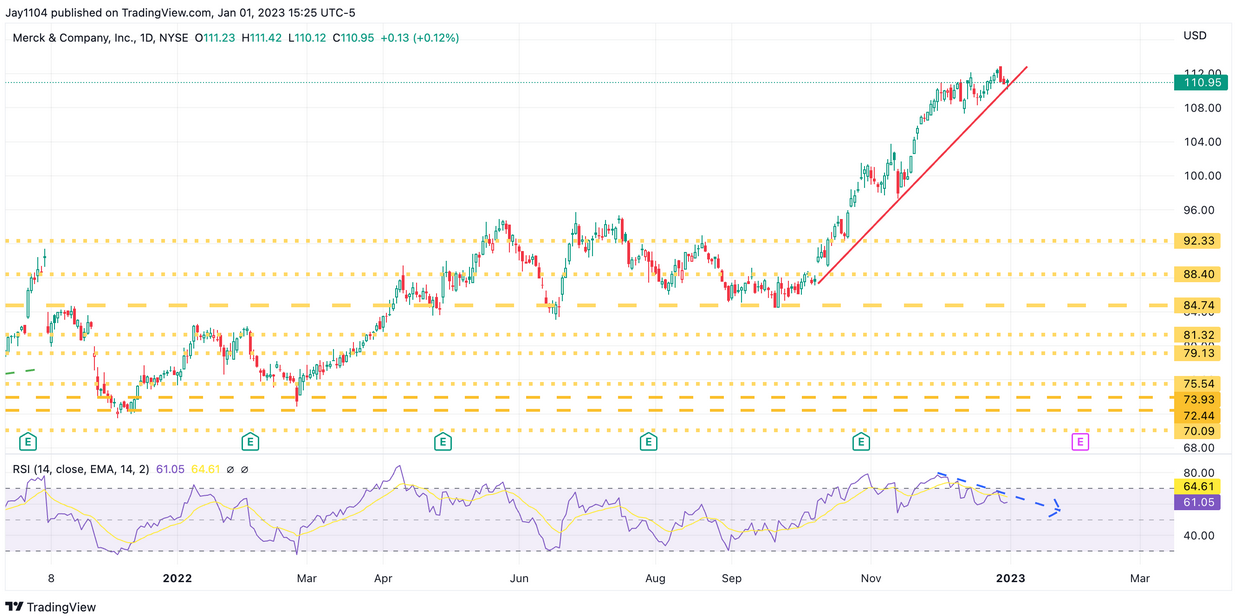 5. Eli Lilly

Meanwhile, Eli Lilly (NYSE:) has also seen a significant move higher, and like Merck, that may end. Lilly also has a bearish divergence with an RSI trending lower. On top of that, Lilly has broken an uptrend and has a potential Head-and-Shoulders pattern forming, along with a gap to fill at $310.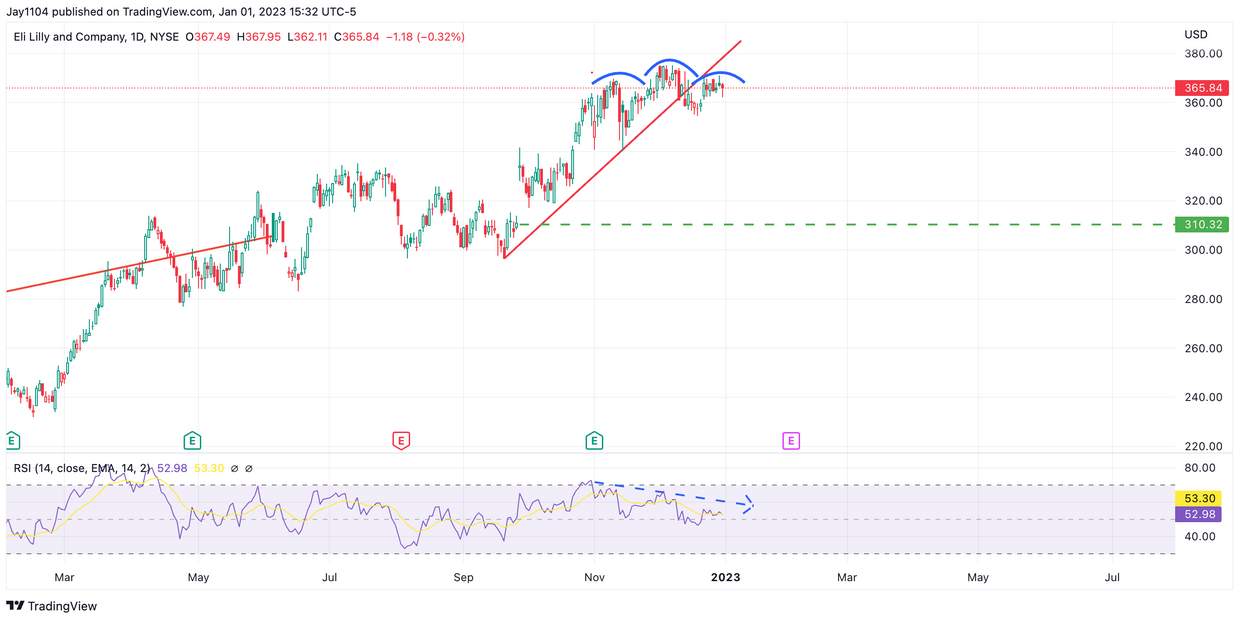 Additionally, analysts have cut their earnings estimates for Lilly in 2023 and 2024.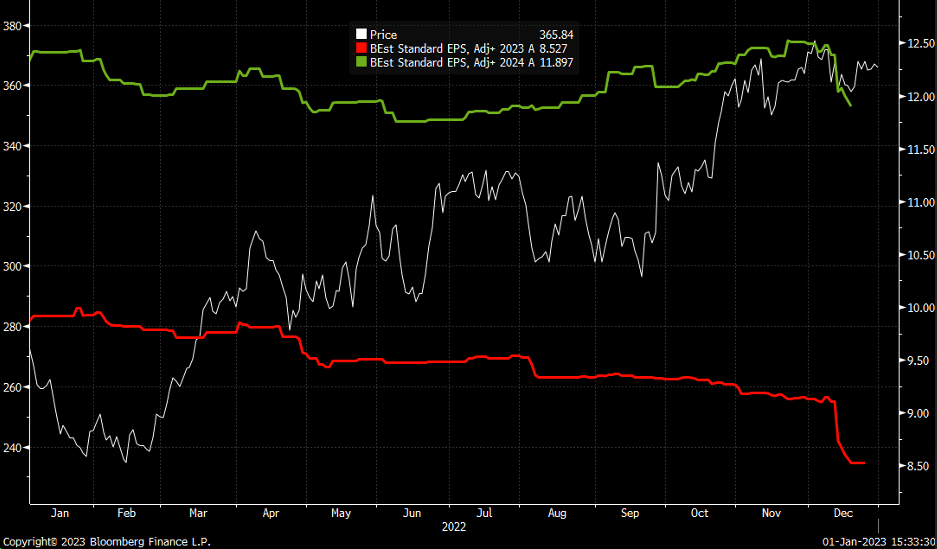 Eli Lilly Earnings Estimates Chart
6. Tesla
Tesla (NASDAQ:) has been smashed in recent weeks. While many on Twitter seem to bellyache about the declines, they aren't focused on why it is falling. Instead, they are looking to the past, thinking about the company's wonderful 2022, not the struggles it is likely to have. It is always about what you will do for me next, and right now, 2023 earnings estimates for Tesla have fallen about 10% over the past couple of weeks, and well, that is that.
When a growth stock has falling earnings estimates, the stock price should be falling.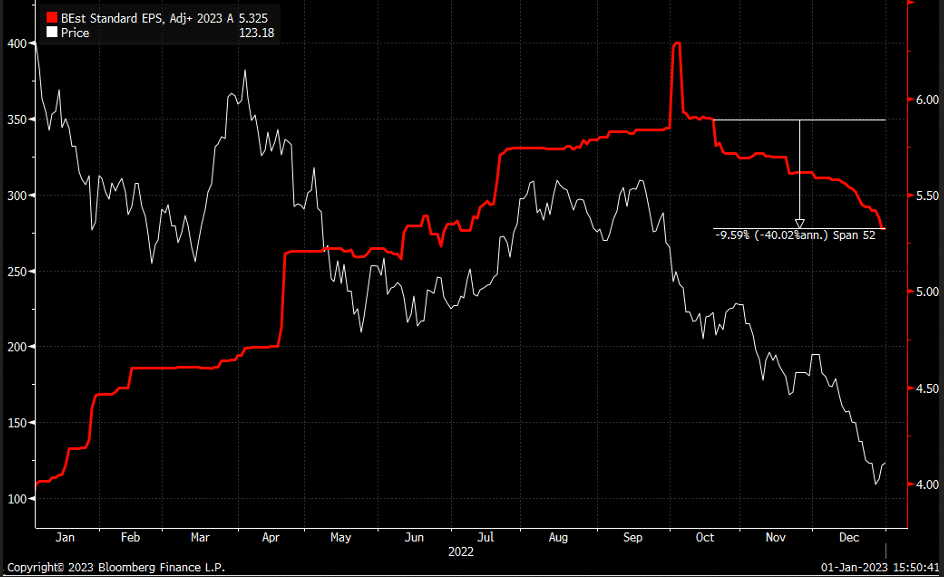 7. Meta (META)
Meta Platforms (NASDAQ:) may not have bottomed either because earnings estimates for the company continue to head lower.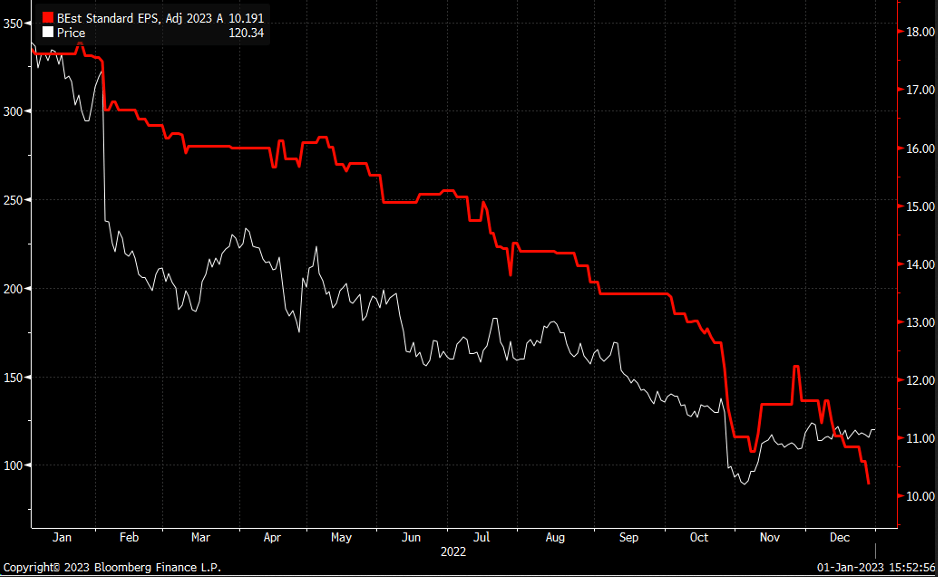 I think 2022 was much about PE multiple compression due to higher rates. I believe 2023 will very much be about the falling EPS dragging the Price down. We will probably need to focus much more on earnings and sales trends in 2023. Analysts should also update their models for the fourth quarter earnings season starting this week.
Original Post